Many people wonder if there will be any activities at the Riyadh Peace Tree Garden during the Riyadh season in 2022.
The Riyadh Peace Tree was one of the areas of the Riyadh Season 2021 that drew a large number of visitors due to its unique and diverse activities. The Tree of Peace Park has also become a popular destination for families looking for a relaxing weekend or summer vacation.
As a result, many people are looking for the Riyadh Peace Tree and whether it is still one of the areas of the Riyadh Season 2022. The Peace Tree was not announced as one of the Riyadh Season 2022 after announcing the areas of Riyadh Season, but the demand for it is still high and many people visit it. As a result, in this article, we will go over the specifics of the Riyadh Peace Tree.
Details about the Riyadh Peace Tree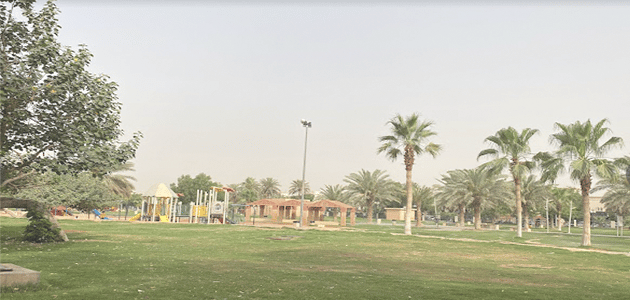 The Riyadh Peace Tree or Peace Garden is a Saudi area located in Riyadh, Saudi Arabia's capital, specifically in the middle of the city in the Al-Dirah neighborhood, which is located near the Palace of Government next to King Fahd Road, and it is also known as the Peace Park or Garden, and it was built in 2003. It is one of the largest parks in the city of Riyadh, with an area of 312 thousand square meters, and its goal is to provide a good place for families, children, and friends to have a wonderful time and enjoy the natural scenery.
The opening of the Riyadh season 2022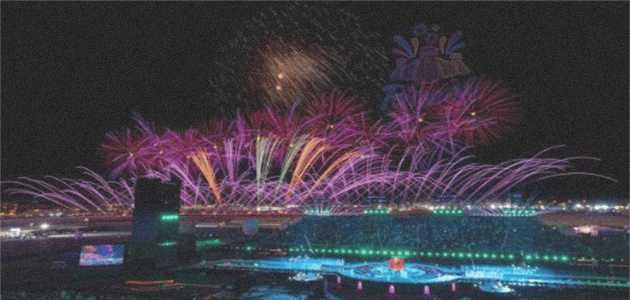 The Riyadh Season opened on October 21, 2022, and will continue until the end of January 2023. A slogan for the Riyadh season, "Above Imagination," was also chosen in order to express the atmosphere of the third Riyadh season 2022, which was tweeted by Turki al-sheik Abd. Twitter application. In order to know more information about the Riyadh Season, an application called the Riyadh Season was provided, through which people can follow the events of the Riyadh Season and book tickets for it. Read about Turki Al-Sheikh is announcing the Riyadh season locations in 2022
Riyadh Peace Tree
Discover the most important information about the Riyadh Peace Tree by reading the following:
Because of the presence of many musical events and activities that spread joy and provide fun, the Peace Tree, Riyadh Season, is an area that provides citizens with the right environment to enjoy, particularly for those who are interested in music.
This area was designed in an unusual way, as it is divided into agricultural and water environments, as well as natural reserves for animals, birds, and rare plants.
Because of the design of this park, as well as its popularity among citizens and positive feedback, it received an international award, the bronze award for environmental and recreational projects. In addition to presenting the most important information about the peace tree and the Riyadh season, a variety of activities, such as (a bird garden, recreational workshops, musical bands, solo and group live performances, karting, food area, live kitchen corner, and farmers market, commodity selling corners singing performances)
Riyadh Peace Tree activities area sections
Riyadh Season's designers and workers divided the Riyadh Peace Tree Garden area into several sections or areas, as follows:
1- The hilly terrain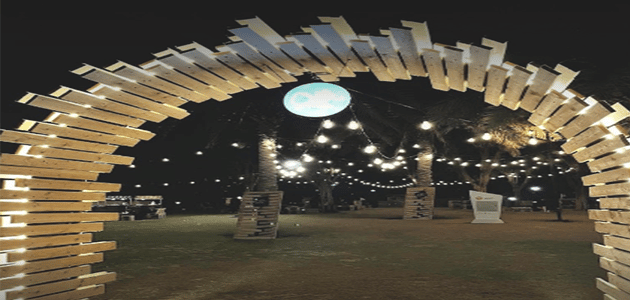 The hills area is a slightly elevated area from the rest of the areas, and it was designed in the form of a group of small hills covered in green grass, and it was designed in this way to allow visitors to sit on it and photograph the views of the garden, as the height of this area allows seeing the park as a whole, so the visitor is able to enjoy the different views of the park, which is a feature of the park. It is regarded as a lovely tourist destination in the city of Riyadh.
2- The environment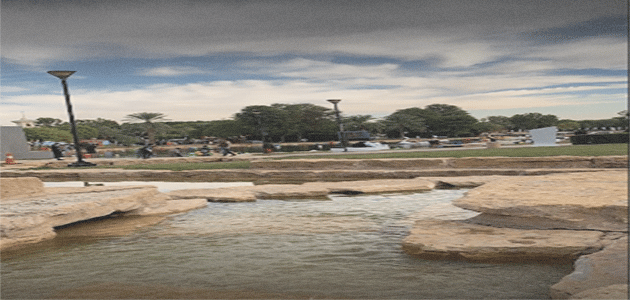 The environment area is where natural reserves are located, and there are many, many rare animals and plants that are being saved from extinction in any way possible.
3- The farmland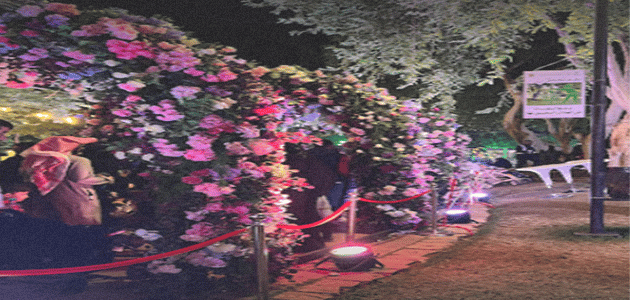 Al-Mazraa area originally consisted of a palm tree plantation, a small palace, a mosque, and many buildings for public utilities, which were initially intended for a special category, but after a while, it became for the general public, and it was later developed into a public park that meets the needs of families and children and allows them to enjoy their time there. A large number of palm trees, which has surpassed 1,000, distinguishes this region.
4- Buhaira Industrial District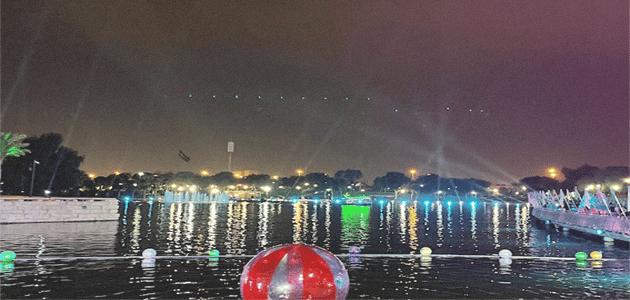 The industrial lake area consists of a large lake with a depth of 5 meters, in the center of which is a fountain that is illuminated in charming colors to create a beautiful atmosphere.
5- The area with illuminated fountains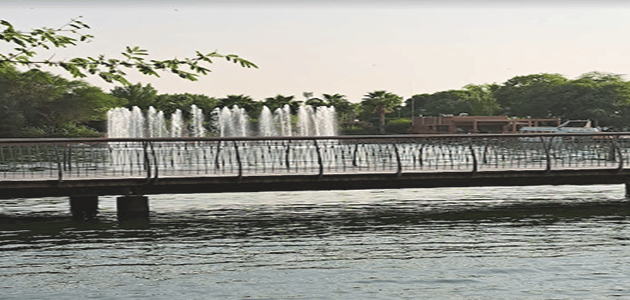 The Fountains area is designed in the shape of a group of fountains that are lit in appealing colors and take symmetrical shapes that resemble a charming painting.
6- Shops and restaurants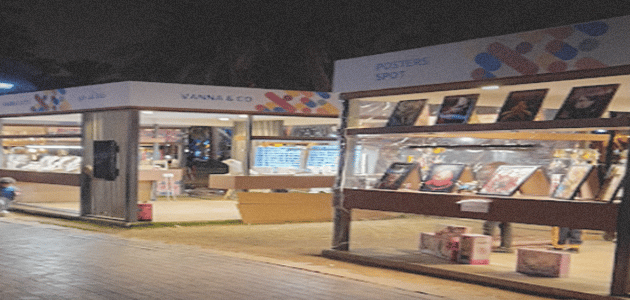 The restaurants and shops area is designated for visitors to get food, drinks, and snacks.
7- Playground for children
The children's play area is an area that contains a variety of fun and interesting games for children to enjoy.
Riyadh Season Peace Tree Activities
The Riyadh Peace Tree area has been planned to accommodate a wide range of interesting and entertaining activities. All events are held in a 50,000-square-meter area. Activities that take place in the Peace Tree area include:
1-Theater activities: This theater hosts concerts and visual performances, as well as individual performances for visitors. They are distinguished as outstanding performances by talented artists that provide visitors with a memorable experience.
2-The Peace Tree's Activities: The Riyadh Peace Tree is a 12-meter-long artificial tree that was created to serve as an icon and sign for the region. A soundtrack adds an amazing and wonderful atmosphere, and these shows are not restricted to specific groups of society.
3- Exotica Rose Garden Activities: The Exotica Rose Garden is a 2,500-square-meter artificial garden that includes flowers and roses. Many models of marine organisms and birds have been created.
There are numerous references that are decorated with both natural and artificial flowers. Children are welcome to come. And adults sit on it and take beautiful photographs, and what distinguishes this garden is that many local artists display their talents and arts in front of visitors and passers-by, and shops have been provided in this garden for visitors to shop in, as well as a market where farmers display their products.
4- Live cooking competitions: Live cooking competitions are among the activities that distinguish the Peace Tree area, as they are difficult to find elsewhere. Approximately 5 chefs prepare a variety of delectable foods at these events.
5- Outdoor activities: An area called the outdoor activities area was designed in Peace Park, and it is an area where various events and activities are held, such as free drawing, cycling, and a large maze, in order to provide fun for a wide range of people.
6- Children's activities: Children's activities are held in a children's area, which includes a theater smaller than the park's main theater and a theater where children's entertainment shows, such as balloon formation shows, bubble blowing, face painting, and entertainment figures, are held.
7- Adult activities: Adult activities are held in Deqat Al Salam, which are enlightening evening shows that reflect the cheerful character of the garden, and in the large theater, various shows are held, such as performances for dancers and acrobatic skills, but they are only presented on holidays weekends.
Riyadh Peace Tree area schedule
We can determine the dates of the visit by doing the following:
Except for Saturday, the Riyadh Peace Tree area is open to the public every day of the week. It begins operations at four o'clock in the afternoon and runs until two o'clock in the morning.
Ticket prices for the Riyadh Peace Tree event
Ticket reservations for the Tree of Peace activity differ from season to season as follows:
Individuals, whether children or adults, can get free tickets during the Riyadh season. On regular days, adults pay 5.25 Saudi riyals for admission, while children are free.
Conclusion
This article discussed the Riyadh Peace Tree Park and the most important events and activities that take place there. Peace Tree Park is one of the most well-known parks in Riyadh, and many visitors come here to enjoy the green spaces. It is also appropriate for families because it includes children's games.