Jeddah is one of the most beautiful cities in Saudi Arabia, distinguished by its tourist and heritage attractions, as well as one of the Kingdom's most important economic cities. Jeddah hosts a variety of recreational activities and events. The events of the Jeddah Season 2022, which will take place in nine different regions, will begin in May 2022. We previously discussed the opening of the Art Promenade and City Walk Jeddah. Now in this article, we will talk about the most important area of the  Jeddah season 2022, which is Prince Majid Park.
Prince Majid Garden is one of the largest gardens in Jeddah, and it has recently been developed and renovated to become one of the city's tourist attractions. Follow us as we learn more about Prince Majid Park, the most important activities that take place there, and the Prince Majid Park admission fees.
Information about Prince Majid Water Park
Prince Majid Park is located on the Pasta Branch Road in Jeddah's Al-Rabwa neighborhood. Prince Majid Park is regarded as one of the largest gardens in Jeddah suitable for families, as well as one of the most beautiful tourist destinations in Jeddah, with numerous recreational opportunities. The garden is 132,000 square meters in size and features green spaces, quiet family sessions, and a play area. It also has artificial wave swimming pools, cultural exhibitions, and enthusiastic and enthusiastic performances.
Areas of Prince Majid Park
Prince Majid Park, with its large area, is considered one of Jeddah's tourist attractions, with visitors coming from all over the Kingdom and even from outside the Kingdom. The park is divided into several sections, the most important of which are:
1- The garden's entrance, is surrounded by trees and has a beautiful view.
2- Beautiful sessions in green spaces
3- The games area, which includes a wide range of games suitable for all age groups.
4- A 1.8-kilometer-long walkway for walking and jogging.
5- Inside Prince Majid Park, there is a gym where sports enthusiasts can participate in a variety of activities.
6- Water Village Prince Majid Park, which offers a variety of recreational water activities for people of all ages and groups. Admission to the water village is obtained by purchasing water park tickets in addition to entrance tickets.
7- The carnival area, which hosts theatrical and entertainment performances, and the cultural bazaar, which showcases the cultures of various countries.
8- The restaurant area, which includes a variety of restaurants and cafes where you can eat and drink.
9- The garden also has special amenities such as restrooms and changing rooms.
Prince Majid Park activities in Jeddah season 2022
Prince Majid Park is one of the areas included in the Jeddah season 2022, which began in May. Prince Majed Park's activities and events include cultural, recreational, water, and other activities.
1- The dancing fountain with a height of more than 30 meters and wonderful lighting, adds a charming beauty to the garden.
2- In the carnival area, acrobatic and kinetic performances
3- Games for children. On an area of 8000 square meters, there are various types of entertainment, water, and fun games. Furthermore, the toys are suitable for children.
4- Within Prince Majed Park, there is a water area with water pools and industrial waves. The Prince Majid Water Park offers a variety of water games.
5- One of the games inside Prince Majid Park is The House of Horrors. A horror house for fans of adventure, excitement, and horror, where you can enjoy watching horror movies as well as some terrifying kinetic models and have a fantastic time. Tickets for the haunted house must be purchased within the park.
6- There is a designated area for displaying artistic abilities. Where some plastic artists draw in front of the audience and display their amazing works of art. Visitors can also try their hand at painting and discover their talents in the park's Art Gallery.
7- Inside Prince Majed Water Park, there are numerous restaurants and cafes that serve quick and light meals. Aside from the presence of shopping centers selling both local and international brands.
8- One of the most important activities within the park is the cultural exhibition. Where different countries' products and heritage are displayed. The cultural exhibition makes you feel as if you are on a world tour, seeing the culture and heritage of other countries. Every week, a different country's culture and products are displayed in the cultural bazaar.
9- Take in theatrical performances and cultural plays at Prince Majed Park, where you can have fun, adventure, culture, and knowledge all in one place. In addition to folklore performances from around the world.
10- Every Friday, a different country from around the world is chosen to showcase its culture and products inside Prince Majid Park. The displayed handicraft products tell the story of the country and its civilization as if you have traveled to this country and are wandering its streets, eating in its restaurants, and shopping in its markets. We recommend that you attend and enjoy this wonderful new fun in the city of Jeddah. On Friday, May 20, 2022, Indonesia put on a show.
Entrance Fee to the Prince Majid Park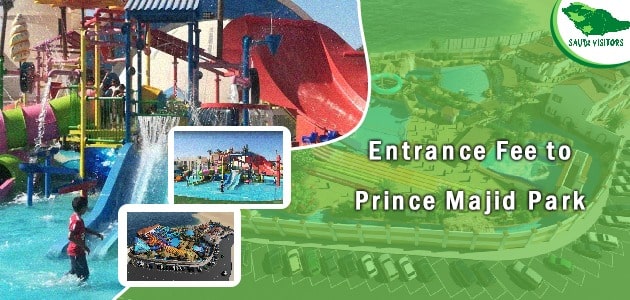 Tickets to Prince Majid Park can be reserved via the website. People are not permitted to enter without first making a reservation on the website. To answer the question, "How much does it cost to enter Prince Majid Water Park?" The following are the admission fees to Prince Majid Park:
All ages are welcome to visit Prince Majed Park. While admission to the water park in Prince Majed Park costs 129 Saudi riyals, admission to the water park's facilities costs 39 Saudi riyals.
Prince Majid Park working hours
Prince Majed Garden is open daily from Sunday to Thursday, from six o'clock in the evening until one o'clock in the morning. Also on Saturdays and Fridays from four o'clock in the evening until one o'clock in the morning. The activities at Prince Majid Park will begin during the Jeddah season, from May 11 to May 14, and admission to the activities will be free during the Jeddah Season 2022.
For more information on the park, contact Prince Majed Water Park at 0567771907 or 0126205566.
Conclusion
Prince Majid Park is one of the most well-known tourist attractions in Jeddah. In this article, we discussed the activities of Prince Majid Park in the 2022 Jeddah season, as well as the most important recreational areas within the park. We discussed the working hours of the Prince Majid Water Park as well as the admission prices.
If you enjoy fun and adventure and are looking for tourist attractions in Jeddah for families, we recommend that you visit Prince Majid Park and participate in various recreational and cultural activities. Visiting the park also takes you on a tour of the world's cities, where you can learn about the heritage, culture, and civilization of various cities at the heritage bazaar, which is held every Friday. Every Friday, a different country's products are displayed at the cultural bazaar. In addition to water games, Prince Majid Park offers a variety of water activities for people of all ages.